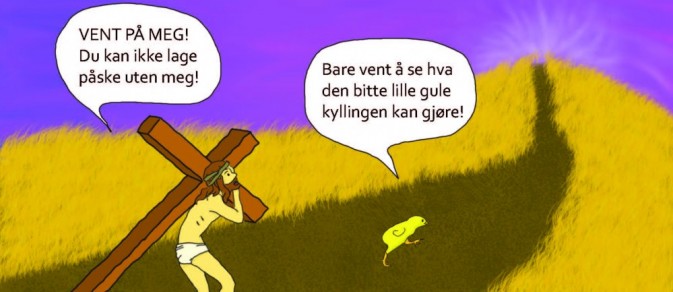 Easter card
lag et p_skekort som ikke eksisterer fra f_r av, var oppgaven. Fokuset l_ p_ budskapet, s_ selv om designet ikke var det beste kunne vi f_ en toppkarakter. Det viktigste var at budskapet kom frem. Jeg valgte _ sette fokus p_ hva p_sken har blidt og at vi nesten har glemt hvorfor vi feirer p_ske.

Make an Easter card that did not exist previously, was the task. The focus was on the message, so even if the design was not the best we could get top grade. The most important thing was that the message arrived. I chose to focus on what Easter is gentle and that we have almost forgotten why we celebrate Easter.

Jesus: Wait for me! You can not make Easter without me!
Chicken: Just wait to see what a smal yellow chicken can do!